Canggu, Bali: Copenhagen Cafe Canggu
The surf town of Canggu is as laid-back as it gets, populated mostly by coffee shops, beachside bars, and trendy shops and markets. Yoga, surfing, and sunset-chasing make up about 90% of its visitors' days. Just a short distance north of the tourist spots of Seminyak and Kuta, Canggu is still relatively chill but who knows how long it will stay that way.
Copenhagen Cafe
Canggu, Bali
I don't generally research restaurants when I'm traveling, opting to trust my judgment and stomach instead. Sometimes this backfires and I get food poisoning. Sometimes I find amazing spots off the tourist trail. You win some, you lose some.
I hopped on my scooter and slithered my way through Canggu's winding side roads before a big mural of Copenhagen's iconic sights caught my eye and I slid to a stop. To be honest, it was mostly because I was starving and had been struggling to find somewhere open at 7:30 AM.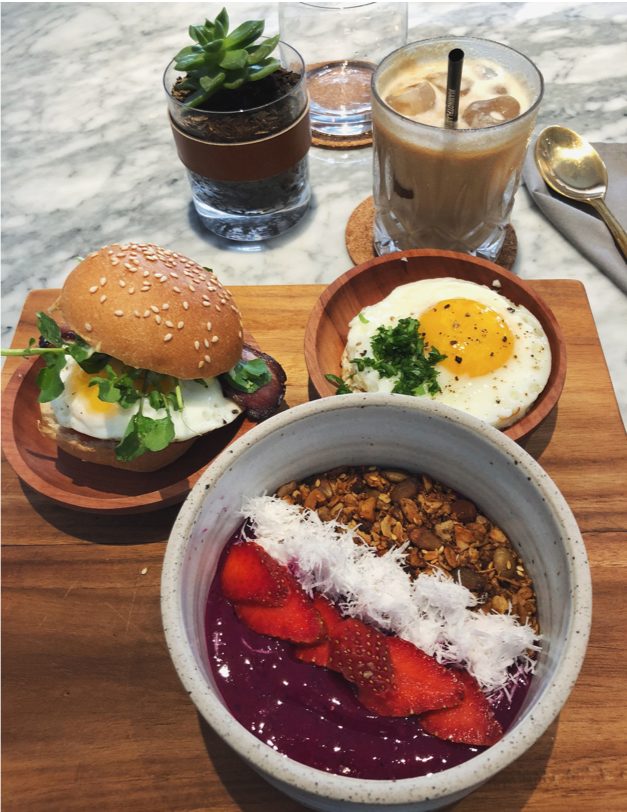 Tuesday-Sunday: 7am-4pm
Closed on Mondays
I stood around awkwardly trying to find a menu anywhere before being handed a pink card. This cafe had a unique mix-and-match way of ordering. Rather than having a set menu, you picked from a variety of options in different categories. You had your bread, fruits, eggs, meats, desserts, and so on. Each category had 2-5 choices. You could go here every meal for months and have a different meal each time.
I was hungry and ticked off the first three things that appealed to me without even looking at the rest of the menu. In hindsight, I probably didn't need as many eggs as I ordered. I kept that card in my pocket so I could plan my next meal in advance and not repeat that mistake. The first smoothie bowl I ever had was fantastic, though.
Although Canggu is quieter than the more established tourist spots of Bali, the main roads of Canggu have their fair share of noise and tourist traffic. Copenhagen was tucked away in a quiet side road, making it a perfect spot to spend the day working, reading, or catching up with friends. The Instagram culture taking over Bali has made certain cafes almost unbearable but as picturesque and aesthetic as Copenhagen was, most customers were here to actually enjoy the food, the vibes, and the extremely friendly local staff. The care and precision the staff put into preparing the meals spoke volumes about the care put into each customer.
Somewhere as trendy as this in a beach town like Canggu had to be pricy, right? I was pleasantly surprised that Copenhagen only charged 59,000 IDR ($4 USD) for every meal of 3 choices or 79,000 IDR ($5.50) for a meal of 5 choices. You get a big, diverse, and well-balanced meal of food that you actually want to eat without shelling out more than the price of a green juice at a cafe on Canggu's main strip.
Second meal at Copenhagen Canggu
Dragonfruit smoothie bowl, cinnamon rolls, and smoked salmon with cream cheese
Canggu is definitely becoming one of Bali's hot destinations, if it isn't already. Copenhagen Canggu just opened February of this year and is following the footsteps of other places focusing heavily on green initiatives. They use no plastic, source their meat from a local farm, and source their produce from local businesses in Bali. The simple structure of their menu also means they minimize food waste by being able to buy their stock daily.
Like their name suggests, the owners are Danish and Copenhagen is their first business in Bali and their first foray into the food and beverage. And yes, they do serve some of the best Danishes and pastries you will find on this side of the world. Make sure to go when they're doing buy-one-get-one-free cinnamon roll days but any day is a good day to check out Canggu's newest cafe.